The 3 Bears DU is our first Duathlon and 5 Mile Run of the year.  Join us on January 25th, 2020 at 9:00 AM at the San Pablo Dam Reservoir,  El Sobrante entrance.
This is our 9th Annual Du 3 Bears Duathlon and separate 5 Mile Run/Walk at the beautiful San Pablo Reservoir.  The reservoir boasts gorgeous views of the lake and surrounding hills and has hiking trails, kayaks and boats for rent, and picnicking spots throughout. 
If you missed the open registration, come to the race.  We accept registrations on Race Day also.
                                                      Please NOTE, the Race goes on... RAIN or SHINE.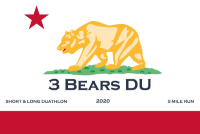 Print/Download the Race Flyer       Short Course Transition Map     Long Course Transition Map
Registrations to Date                          Map the 5 Mile Route                 Map the Short Duathlon 1st Run Route
                                                               Map the Duathlon Bike Route   Map the Duathlon 2nd Run Route
                                                               Map the Long Duathlon 1st Run Route