We just got final word from EBMUD who runs the park where we have our races and they say, "NO, we follow the stay in place order".  So sadly, we can not have our races till we get a thumbs up.
We have the exact same distance race categories scheduled for The Fall Showdown, November 14, 2020. It is a part of the Half marathon series 5k/ 5miler/ and Half Marathon. 
A few people have asked me about our no refund policy. I would like to take a minute to explain.  Putting on these events takes over a year of effort, preparation and thousands of dollars. There are many expenses that must be born far in advance of the event. They can include park permits, service contracts, marketing, awards, bibs, supplies, etc.
Without a "no refund policy" to cover extreme situations like the one, we in which currently find ourselves, it would be impossible for small businesses like mine to undertake the risk of holding these events.
We will however transfer your entry to any race that we have for the next year including next year's Mother's Day Race. Just pick your race found on the list of "Events" calendar, or next year's calendar, print the flier and mail it back to me.  Where it says price put in -0-Transferred. We will have the 2021 calendar of events out in October. 
I want to close with a heartfelt thank you for all the support you have given me every year and particularly this year.  You take care, be safe, and keep training !!
Happy Trails,
Wolf
Keep training, and we'll see you at the starting line on 5/9 !!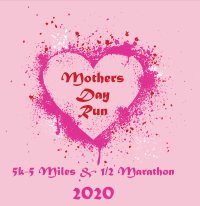 This is our 9th Annual Mother's Day Run with a Half Marathon/5 Miler/and 5K events.  Moms, Dads, and Kids, come join us for a fun event that honors Mother.  A great way to celebrate on Saturday, May 9th, 2020, a day before Mother's Day.  We'll be running our event at the beautiful San Pablo Dam Reservoir - El Sobrante entrance.
A little known Jewel in the East Bay, the San Pablo Dam Reservoir is beautiful. A favorite spot for avid fishermen has always been our favorite place to run and bike. The seasons change the color of the foliage and the beauty of the lake from dramatic sunrises to misty mornings. You will find a new place to train and to do your practice runs. 
Our 9th Annual Wolf Pack Event to honor Mom, on Saturday, not Mother's Day. No greater way to show Mom the Love and to Honor her than to spend some time doing some physically challenging work to stay healthy. Hoping Moms will join in the race, walking is perfect, so they can show us the great shape they are in as well ! Run it or walk it, it's all good for your Health. Looking forward to Moms and Families celebrating Love, Life, and Health for Mother's Day.
View / Print the Race Flyer        Half Marathon Route         5K Route           5 Mile Route
Race Information                          Registrations to Date
The Courses:
This is a mixed Trail Run. The 5K is on a paved course (the Old San Pablo Dam Road), while the 5-Miler and 1/2 Marathon veer off onto a dirt trail with rolling small hills. The 1/2 Marathon is the only opportunity in the Bay Area to run 2 Reservoirs, San Pablo Dam and Briones ! All courses maintain a fabulous view of the Reservoir and the surrounding landscape, picturesque and beautiful. Be sure to enjoy the views while you battle for your finishing place !!! 
Awards:
We'll have a race day t-shirt for all pre-registered participants & race day registrants until gone,  and a special gift for the Mom Runners/Walkers to symbolize how important you are !  MEDALS: Custom created Finisher Medals to All. Place Medals will be given to the top 3 finishers in each division; Plaques to both Female and Male Overall Winner in each category, 49 & Under and 50 & Over.   WE RUN.... RAIN or SHINE.
Race Packet:
Pick up your registration at the Pre-Registration table on Race Day.  We'll be open by 6:30 AM on Race Day.  If you miss online Registration, come on race day.  We are always open for Race Day Registration an hour before the race until 15 minutes prior.
Race Times:
Half Marathon begins at 7:30 AM
5K begins at 8:00 AM
5 Mile begins at 8:00 AM